Fernandes struck from the spot in the 81st minute after Paul Pogba was brought down by Eric Dier, the goal cancelling out Steven Bergwijn's superb first-half opener.
There was a late scare for Spurs when Dier was adjudged to have conceded another penalty, but it was overturned by the VAR. Here, we run the rule over the individual performances from an eventful draw at the Tottenham Hotspur Stadium…
TOTTENHAM
Hugo Lloris – 8
The Frenchman was unable to stop the equalising penalty but made a string of vital saves, the best of which came when he tipped a goalbound Anthony Martial effort over the bar in the second half.
Serge Aurier – 7
Defensively vulnerable for much of his time at Spurs, but performed well overall, claiming an assist for Tottenham's goal when he poked Luke Shaw's header into the path of Bergwijn.
Davidson Sanchez – 6
A difficult evening for the centre-back, who appeared rusty at times following football's postponement, although he did thwart Marcus Rashford with a crucial last-ditch tackle in the closing stages.
Eric Dier – 6
Had some good moments during the opening hour but was at fault for United's goal, bringing down Paul Pogba for the penalty. The second penalty involving him was rightly overturned by the VAR.
Ben Davies – 6
Saw plenty of the ball on Tottenham's left, but offered little in an attacking sense and appeared more comfortable when defending.
Harry Winks – 6
Didn't have as much time on the ball as he might have liked and his passing lacking its usual sharpness. Offered little support to Dier in the lead-up to United's penalty.
Moussa Sissoko – 6
Started in central midfield but could frequently be seen dropping back into Tottenham's defence. Provided a physical presence but lacked quality at times on the ball.
Steven Bergwijn – 8
Took his goal superbly, charging away from Harry Maguire and unleashing a shot too powerful for David de Gea, and worked tirelessly off the ball before he was replaced by Giovani Lo Celso.
Erik Lamela – 7
A typically tenacious performance from the Argentine, who was fortunate not to be booked in the first half. Replaced by Gedson Fernandes in the second period having run himself ragged.
Heung-Min Son – 7
Tottenham's most likely goal threat for much of the game, attempting four shots on goal on his return to the side, but couldn't find a way through.
Harry Kane – 6
A willing runner on his long-awaited return, covering more ground than any other Tottenham player, but had few sights of goal and didn't manage a single attempt on target.
SUBS
Giovani Lo Celso – 6
Showed a few flashes of his quality having not been deemed not fit enough to start.
Gedson Fernandes – 6
Struggled to make an impact on only his sixth Premier League appearance for Spurs.
MANCHESTER UNITED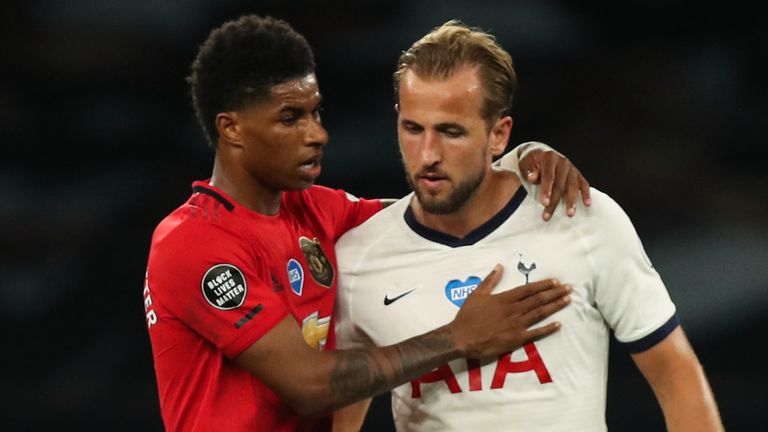 David de Gea – 3
A night to forget for the United keeper. Made a hash of Bergwijn's shot for the opener, leaving Sky Sports pundit Roy Keane 'flabbergasted'. Parried Son's header over moments later and fortunate United got back on level terms.
Aaron Wan-Bissaka – 7
The right-back was typically busy and direct down United's right side.
Victor Lindelof – 6
Fortunate not to be caught out when he lost track of Son early on and struggled to contain Bergwijn throughout. Limped off with just under 15 minutes to go.
Harry Maguire – 4
The United centre-back was also a target of Keane's wrath for his part in Spurs' goal. Allowed Bergwijn to burst past him far too easily. Tried to drive United forward with dribbles from the back.
Luke Shaw – 6
Back at his usual left-back spot but struggled to carve out real openings going forwards, despite United pushing on the front foot for much of the second half.
Fred – 6
Tidy with the ball and busy without it. The Brazilian showed he remains in decent – if not spectacular – form despite the layoff.
Scott McTominay – 6
Worked hard in his holding role, regaining possession for his side more times than any of his team-mates.
Bruno Fernandes – 8
Repeatedly looked to open up the Spurs defence with his passing. Didn't come off in the first half but clicked with sub Pogba and slotted in stylishly from the penalty spot for the equaliser.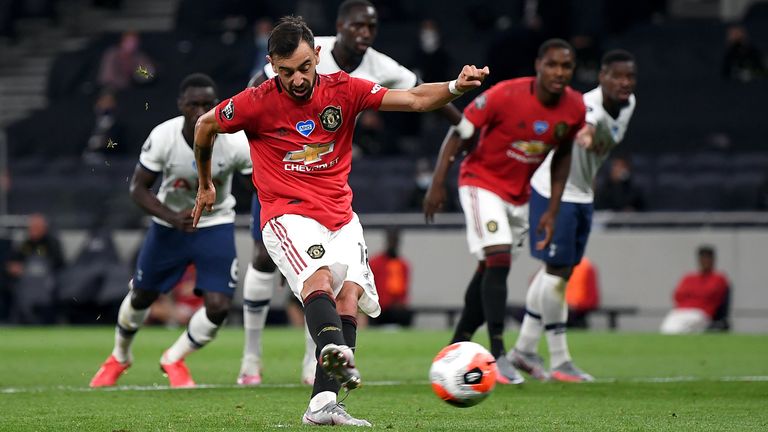 Daniel James – 6
Over-hit his pass when Rashford was free in the box. Booked for a foul on Eric Dier. Lacked space to run into after Spurs' opener and didn't last the 90 minutes.
Anthony Martial – 6
Anonymous in the first half, making just nine touches of the ball but found space and chances in the second. Denied by a Dier block and stunning Lloris save.
Marcus Rashford -7
Looked sharp from the start and had low shot saved by Lloris. Dangerous in attack and signs he is back after his injury problem.
SUBS
Paul Pogba – 8
Changed the game. Immediately into the action with a blocked shot and linked up with Fernandes for a Martial chance. Won the penalty for United's equaliser with a driving run.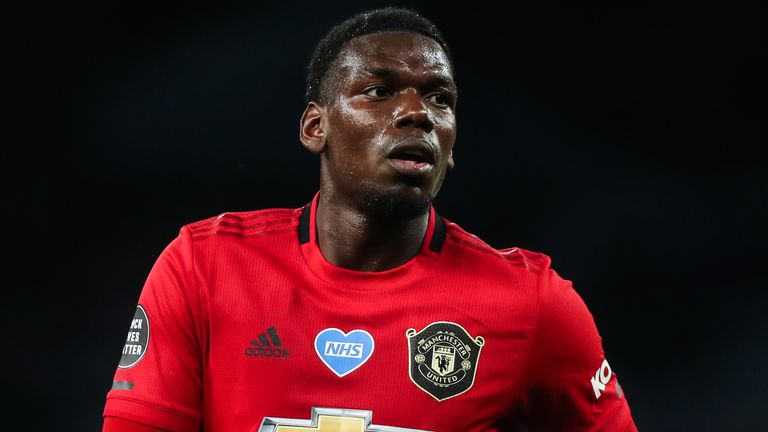 Mason Greenwood – 7
Helped shift momentum back United's way and looked dangerous around the box, going close with a powerful drive.
Odion Ighalo, Eric Bailly, Nemanja Matic – n/a
The trio provided some fresh legs in the closing stages but didn't feature for long enough to rate individually.
What's next?
Tottenham vs West Ham
June 23, 2020, 8:00pm
Live on 
Tottenham head into a London derby next up with West Ham visiting the Tottenham Hotspur Stadium on Tuesday, live on Sky Sports Premier League from 8pm; Kick-off at 8.15pm. They then face a 10-day wait before their next game against fellow Champions League chasers Sheffield United on July 2.
Man Utd vs Sheff Utd
June 24, 2020, 5:00pm
Live on 
Manchester United host the Blades in their next game on Wednesday, live on Sky Sports Premier League from 5pm; Kick-off at 6pm. They then face an FA Cup quarter-final trip to Norwich on June 27; Kick-off at 5.30pm.
Domestic Super 6 IS BACK!
Do not miss your chance to land the £250,000 jackpot on Saturday. Play for free, entries by 12:30pm.
FOOTBALL TRANSFER RUMOURS AND GOSSIP
Off topic, but it's the anniversary of the Manchester Arena bombing tomorrow. Even at this time our condolences are with families/friends of covid victims, let's not forgot the lives lost during that tragic event 🐝
---
LIONEL MESSI? CRISTIANO RONALDO? PELE? MARADONA? WHO ARE THE GREATEST PLAYERS EVER?
Before you suggest Cristiano Ronaldo is above Lionel Messi please remember the article is about ranking the 5 best players in the history of the game, not who your favourite is.
---
ROYAL ASCOT ON SKY: DAY FIVE LIVE!
---
SAUL NIGUEZ: MANCHESTER UNITED LINKED WITH ATLETICO MADRID STAR
Baseless speculation. We've been 'targeting' Saul since the lad was 19 and 'ceding ground in the battle to keep Paul Pogba' since 2017. I realise its a slow news period with the pandemic going on, but this article could have easily just been reframed as a profile for Saul without having to pretend he's United's number one target. Again, I get that attaching United's name gets more clicks, but at that stage why not just lump every big club in England in there. United, City, Liverpool, Arsenal, Chelsea and all of their mothers set to go to transfer war over Saul!!!
---
ODION IGHALO: DEADLINE DAY SIGNING HAS SHOWN MANCHESTER UNITED WHAT THEY HAVE BEEN MISSING
This article is completely ridiculous.Firstly, Romelu Lukaku was absolutely abysmal with his back to goal. That's the exact opposite of his strength as a striker. The sheer volume of jokes that have been made about his poor close control says it all in that regard, and he wasnt very good in the air either considering his size.Ibrahimovic was a bit better, but by no means did he do it very often. Again his style of play was completely different at United, and the fact that he could barely run meant he was much more of a poacher than a target man. Though he also tried to play as a false nine from time to time, with limited effect.Finally there's the continuing false narrative that Martial and Rashford are somehow massively consistent, despite a mountain of evidence to the contrary. Rashford was on course for 20 league goals in a season before his injury, and Martial himself has had a long term injury this term. He's still scoring at a better rate than Lukaku's best season. The argument that he isnt a true striker no longer has a leg to stand on.Ighalo has been a good loan signing. He is a different type of player. United havent had a good player with his back to goal since Berbatov. His biggest use though is the depth he's added, which has meant Martial has had some chances to rest. Whether he's worth a permanent deal or not cannot be judged until he's played more games.
---
GARY NEVILLE: PREMIER LEAGUE SHOULD LEAD RESCUE OF EFL CLUBS
Neville is right, the problem at Championship, Leagues 1 & 2 is borne from the success of the Premier league and TV rights. It is definately the way forward that instead of paying extortionate wages, providing massive prize monies that a larger proprtion of the monies should be shared. It is a fat cat mentality that was not there prior to the Premier League when even the biggest clubs in the land were at the same level as all the others. The Premier League has changed the path the sport has taken and its all about big money at the top, where the big clubs get richer and the poorer clubs remain that way. Time to have closer ties with the smaller clubs and use these clubs as places for players to get more pitch time rather than rotting in U23 football. A full reset would be great, as we might get back to the hay days of clubs having runs like Wimbledon upto the old Division 1 and FA Cup rather than the runs we are now having with the likes of Sunderland and Ipswich.
---
PREMIER LEAGUE: MAJORITY OF BOTTOM-HALF CLUBS WANT RELEGATION SCRAPPED WITH NEUTRAL VENUE MOVE LIKELY
Neutral venues do remove the home advantage, but they also remove the perceived away disadvantage. The argument is senseless. The bottom clubs are just trying to worm their way out of relegation and it's pathetic.
---
SKY SPORTS BUST COMMON FOOTBALL MYTHS: HOME ADVANTAGE?
I always think it makes a big diffence when your club is at home, crowds or no crowds and if one of the top clubs loses at home then it's reguarded as a shock !!. so that tells me bigger clubs are expected to win at home no matter what.Teams go to the Etihad, Anfield and dare i say it Old Trafford, and if your a lower placed or even mid-table team shut-up shop and try and nick something, the odd time it works, whether that would happen behind closed doors remains to be seen but i wouldn't expect to many shocks….maybe the odd win or draw but i think the overall pecentages if games are played behind closed doors would still be an overall average of around a 55%-60% home win.
---
PREMIER LEAGUE RESTART: A BIG WEEK AHEAD FOR THE FUTURE OF FOOTBALL, SAYS SKY SPORTS PODCAST
The first thing i think they need to do is test all the players and staff who will be involved in training and the matches, after that then perhaps a social isolation away from every one maybe 3 days before the match. If that gets in the way of testing people who need it though then that could be a problem. Let's face it, when it comes down to it, it comes to money as there is so much of it involved in football. Will the government get in the way?
---
PREMIER LEAGUE PLAYERS SHOULD REJECT PAY CUTS, SAYS ROY KEANE
I totally disagree. Staff at normal businesses have contracts, and don't have any say whether their employer furloughs them. We pay footballers too much at any point – why are they getting hundreds of thousands a week now when there aren't any games. Set up a fund and use it to save other PL employees and clubs down the hierarchy. It's a no-brainer.
---
FERRARI UNVEIL 2020 F1 CAR IN DRAMATIC STYLE AT SF1000 LAUNCH
So it looks like a tighter packaged evolution of last year's car, so no surprise there. I'm assuming the front wing and some of the other elements are not this year's spec as is customary at these things. Looking forward to seeing the cars on track in winter testing. Let's hope Ferrari can finally mount a consistent challenge this year.
---
WHICH PREMIER LEAGUE CLUBS BENEFIT FROM GAMES BEHIND CLOSED DOORS?
I don`t understand why you can not have supporters in grounds priority is season ticket holders only people without family members in one stand seating 6ft apart family of 2 season tickets in another stand and so on.This could apply to all clubs teams further down the league should have plenty off room this helping smaller clubs with some finance and if still seating available sell them first come first serve.
---
THE LATEST #CARRACHALLENGE XI – CHAMPIONS LEAGUE WINNERS
Gk-Van Der Sar🇳🇱RB-Lahm🇩🇪CB-Desailly🇫🇷CB-Lucio🇧🇷LB-A.Cole🏴󠁧󠁢󠁥󠁮󠁧󠁿CM-Alonso🇪🇸CM-Lambert🏴󠁧󠁢󠁳󠁣󠁴󠁿CM-Modric🇭🇷RW-C.Ronaldo🇵🇹ST-Shevchenko🇺🇦LW-Messi🇦🇷Manager-Lippi🇮🇹Sub-Alenichev🇷🇺
---
JAMIE CARRAGHER'S LATEST #CARRACHALLENGE – ONE PREMIER LEAGUE CLUB, ONE NATIONALITY
David Jones forget Bale played for Southampton making his team invalid?
---
ROY KEANE DIDN'T GET WAYNE ROONEY AND RIO FERDINAND BANTER AT MANCHESTER UNITED
Misinterpreting what he's actually saying – I think he's actually saying these multi-million pound businesses should not be forcing a blanket pay-cut on their players and negotiating with them as individuals. If clubs were saying, 'Okay, you all take a 50% paycut, we'll donate the other to help with Covid-19', whilst some surely are doing good charity, these clubs aren't asking players to take paycuts for the benefit of this epidemic, they're doing it so they can save money by plying blanket pressure on the group as a whole. Talk with them individually and treat them as individuals and let the player (whose money it is) make the decision?United are a perfect example – a publicly traded entity who have shareholders like any business. If the Glazier family place a blanket request to take a pay-cut (if), it won't be for the interest of the UK, the NHS, the Manu supporters or even the operational staff; it'll be for the benefit of the boardroom and shareholders. I use Man United as an example, not to lampoon or rip them, but the fact of their business model. Most other football clubs have other business models and will have similar predicaments but in different forms – so it wouldn't be just United. Just using them as an example, as I've said. But still, at the end of the day, it will be the players who take the hit, and the staff and then roll onto the fanbases. I totally get where Roy Keane is coming from here – it is the principle of it.
---
Related Stories
Pogba shines as Fernandes pen foils Spurs
Asensio returns with goal as Real beat Valencia
City punish Luiz's catalogue of errors
Blades denied by goal-line error in draw at Villa